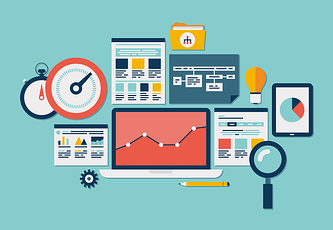 Looking for the best ways to increase your conversion rate? From the various ways to increase your conversation rate, here are 7 of the best ways to turn your website's traffic into returning customers.
Have a Good Landing Page
Creating a good landing page is the first step in converting traffic on your website. Look into what's working and what's not working on your page, consider applying analytics. This will help you understand the user's behavior. If applicable, incorporate more multimedia elements into your landing page. Having multimedia content on your landing page will make your site feel more trustworthy. Reduce the text on your landing page and focus on multimedia elements.
Strong Call to Action
Providing a strong call to action is comprised of two elements: providing an easy-to-act upon call to action and a call to action that makes your target audience do something. Be careful not to make your call to action feel spammy, but don't be afraid to have a pop up accessible from anywhere on your site that provides your audience the chance to sign up for e-mail marketing, give feedback, download a promo code, or share a post on social media. Your call to action needs to have easy access on both your landing page and throughout your website. Typically, call to actions near the top of the page are better received than call to actions near the middle of the page. Remember to remove unnecessary distractions on your landing page to have a stronger call to action.
Optimize for Mobile
Nearly 80% of consumers use their mobile device to look up products versus going to a physical store, and this number is only growing. Search engines are now promoting pages that optimize for the mobile experience. Try using the Google mobile testing tool to see if your website is mobile friendly. Use this tool to evaluate if your page loads quickly, if the font is the right size, and if the images load on your page. The mobile and desktop experiences are unique from each other, optimizing for mobile will increase your chances of conversion.
Localize Your Content
Localizing your content is an important part to growing your conversion rate to its full potential. Using search engine optimization allows you to localize your content to reach the local market that's looking for your services in their area. Localizing your content helps you to get more traffic, generate customers, and leverage your marketing campaigns. Reach your local audience by making adjustments to your mobile optimization, as it's more common for users to search local content on a mobile device.
Track Multiple Page Elements
Understanding your conversion rate means understanding how people interact with your website. Tracking multiple page elements allows you to see exactly why people are not converting with your page and address the issue head on. Some website analysis tools allow you to see what your audience is clicking through screen recordings. This way, it is easy to see why your audience is not converting. Easily diagnose the areas you need to improve on your website to increase your conversion rate.
Take Advantage of Selling Techniques
When you shop online, there are subtle techniques you might not notice that gets you to buy an item quicker than you'd expect. If you plan to sell online, it's important to use every tool you can to optimize your website to increase your conversion rate. Include stock numbers on your products to create a sense of urgency to your audience. Some websites like to include a countdown timer on their page, as this has proven to lead to higher conversion rates. Experiment with colors and layout of your website. Offer a bonus discount at check-out and take various payment options, as this will help to increase your conversion rate.
Increase Trust
When purchasing a new product, there is a lot of uncertainty that goes into the buyer's decision. You ask yourself, "Will I like this product?" and "Is there an easy return policy if I chose I do not like the product?". These are common questions that every consumer asks themselves before buying a new product. You should start by telling visitors exactly what they will get, so there are less uncertainties. Increase trust by promising a good return policy for your customers. Update your site regularly to have less questions regarding what's in stock and have working links on all products. Include consumer reviews in an easy to locate place on your website. Make sure you support any claims you make about products with evidence on your website. Growing the trust between you and your audience is one of the best ways to increase your conversion rate.
ImageWorks, LLC: CT Digital Marketing Experts
Keeping up with trends in digital marketing can be exhausting, especially when you've got a company to run. That's why our team at ImageWorks stays up to date with the latest advancements in the marketing industry. Let us focus on turning your website into a lead generation machine so you can focus on your business!